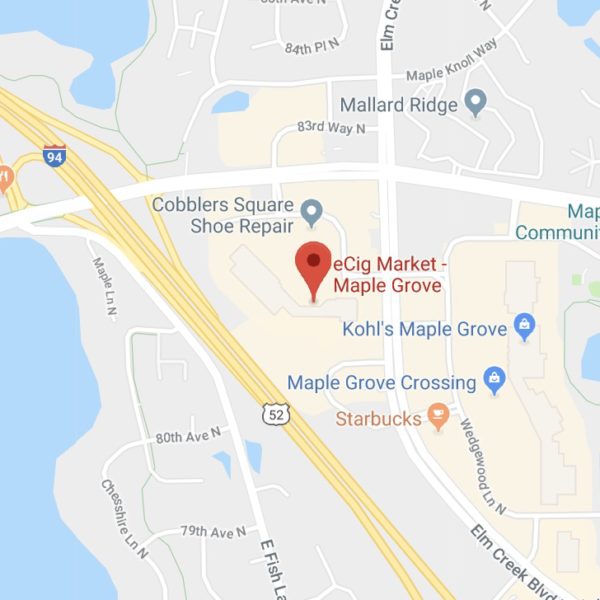 We are very close to Plato's Closet, Down in the Valley, Golden Corral, and JC Penny in Maple Grove. (We're the premier vape shop in Grove square, Maple Grove Crossing, and Arbor Lakes) |
Get Directions
CHECK OUT OUR PRODUCTS AND COME VISIT!
We care about creating a high-end, service oriented experience!
#1 Selection of Vape Juice in Minnesota!
Our employees matter to us, and the customer experience shows it.

Recent Blog Posts
my name is

Nottingham hospitals become first in England to lift vaping ban

Nottingham hospitals become first in England to lift vaping ban

Nottingham hospitals become first in England to lift vaping ban
E-Cig Market - Maple Grove Vape Shop
Maple Grove Vape Shop built with you in mind

You want a vapor shop in Maple Grove that gets what you really want! More flavors – better service, and a staff that actually knows what they are talking about. We create an environment that's connoisseur focused, but beginner friendly. We help you learn more about vape pens, e-liquid and can help you find the right flavors and nicotine level for your own tastes. Many e-cig stores in Minnesota and around Maple Grove, Osseo, Plymouth and Elk River don't even hire experts and thus can't provide the level of service that we're constantly trying to raise the bar for. We want to be the easiest Maple Grove vape shop to buy from and have the friendliest service around.

Premium E-Liquids/Vapors Curated For You

We love helping people find the

E-Liquids/Vapors/e-Juice

that suit their preferences and pride ourselves on the incredibly deep selection we offer. If you walk into an E-cig shop, tobacco shop, or vape shop in Maple Grove and see that they have 50 e-liquids – you're much less likely to find the one that's right for you! Different brands and flavors are favorites of different people. They can combine flavors in house and count those as part of their selection, but our 'biggest selection in Minnesota' only includes truly unique brands and includes alot of premium and high-end brands.

Just looking to get started? We love helping new vapers. We have a number of

quick start - vape kits available

, and have many people switch from tobacco to vaping. We know that there are all kinds of different reasons for switching to e-cigs, but whatever your reason we want to be useful to you.

From new vapers, to advanced vapers

Gabriel Ulschmid mentioned on Facebook that E-cig Market is his favorite and "I even drive out of the way from other stores closer to me for your all around quality juices." We live for these kinds of reviews, and want to be your number one choice because of that friendly service, those quality juices, and the knowledge we share with visitors to our shop. If you want a true 'red carpet experience', high-level of service quality, come to the people that care about your e-cig shop experience!

Come to E-cig market's Maple Grove location today!

We look forward to vaping with you!

No matter what your persuasion, from classic flavors to the more unusual – we look forward to sharing with you the deepest selection of vape juices in Minnesota!

Come into our Maple Grove vape shop, and we'll see you soon.