Brooklyn Park Location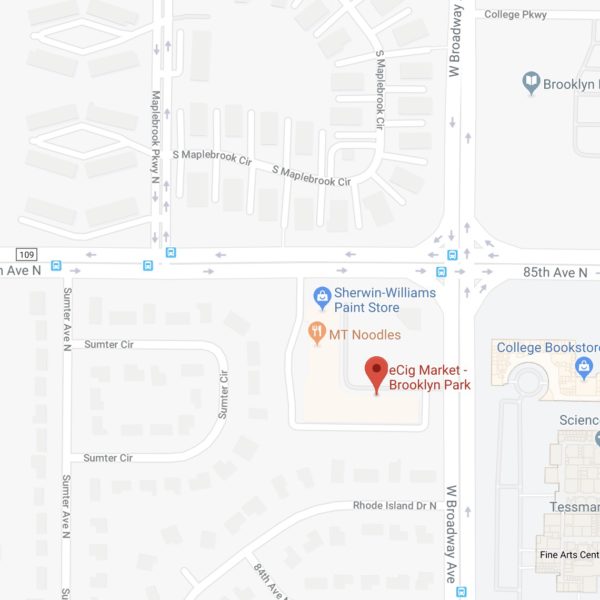 We are very close to Fleet Farm, and North Hennepin Community College in Brooklyn Park. Serving Brooklyn Park, Coon Rapids, Maple Grove and surrounding area. |
Get Directions
BROWSE OUR PRODUCTS, AND COME ON IN!
Connoisseur's of our craft, curating the highest quality eLiquids.
More variety than other vapor shops
We better train our employees so that our customer service exceeds expecations

Maple Grove Location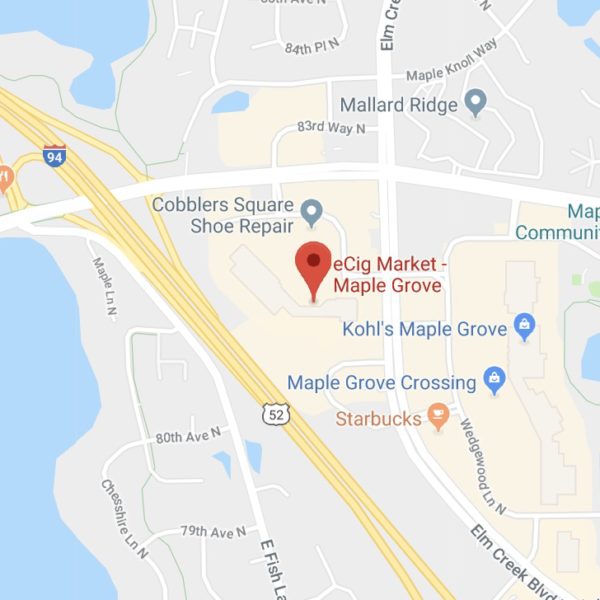 We are very close to Plato's Closet, Down in the Valley, Golden Corral, and JC Penny in Maple Grove. (We're the premier vape shop in Grove square, Maple Grove Crossing, and Arbor Lakes) |
Get Directions
eCig Market - Ecigs, Vapor, and Expertise in Brooklyn Park, Minnesota
Vapor Enthusiasts well trained to help you

You want a vapor shop in Brooklyn Park that serves your needs, and where the people are enthusiastic about Vape Kits and equipment. Our employees are trained to advise you for whatever experience level you're at, beginner vape kits all the way to more advanced setups.

The Best E-Liquids/Vapors Available

We pay close attention to the types of

E-Liquids/Vapors/e-Juice

we offer. We test each one, and make sure it's the right level of quality for our shop. Serving Brooklyn Park and surrounding area with the best of the best has given us some perspective on what a high-end vape line should be. So we judge it by flavor, cloud output, and character; featuring high end brands like

Five Pawns

,

Dripped

and

Black Beards

, just to name a few. We are excited to help beginner vaper's too! You can browse our

Beginner Vape Kits

, or come on in for a custom setup. We serve the area's of Osseo, Brooklyn Park, Brooklyn Center, Coon Rapids, Fridley and Maple Grove with our wide selection of premium e-Liquids.

We know there's a lot of great shops out there, but we are continually striving to up the ante, for what it means to be a premium e-Cig shop, and that starts with our people. Shop and buy in our online store, drop us a line, or come on in for the full experience.

We're excited about giving you personal service, come in today.

The number one thing that makes us special is our friendly, knowledgeable staff who are eager to serve you and find the best eLiquid and Vaping equipment for your particular needs. Beyond that the quality vape has to back it up. So we listen to our customers, and find the flavors and equipment that matters most to you. We seek to give the highest possible quality service, and the largest selection of premium e-Liquid in Minnesota. As we grow, we don't forget what makes it all possible: You, the loyal customer. Any you've spoken and we love it when we hear things like Gabriel Ulschmid mentioned on Facebook: "I even drive out of the way from other stores closer to me for your all around quality juices."